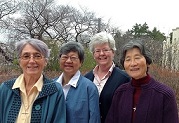 About us
Welcome to this page which gives insight to our General Assembly and our links with other IJ Sisters and partners.

May you find more information about what drives us in our mission.
General Chapter and CI

What is the General Chapter?
Locquirec, France, in 2013
Welcoming Address
Communications 1 -5
Closing Address
Photos
What is the Council of the Institute?
Letters
From the Team Leader :
Christmas 2016
Pentecost 2016

IJ Sisters (International)
The Central Team and Leadership teams
Celebration of 50 years of IJ Presence in Peru
Mission in the Czech Republic
Mutual Support of French Srs
Europe Provincials meet
Final Professions in Bolivia, Cameroon and Malaysia
Poem dedicated to all IJ Sisters

read more
IJ Partners
Our Partners in Mission
IJ Fraternity